Palau, Micronesia
January 2005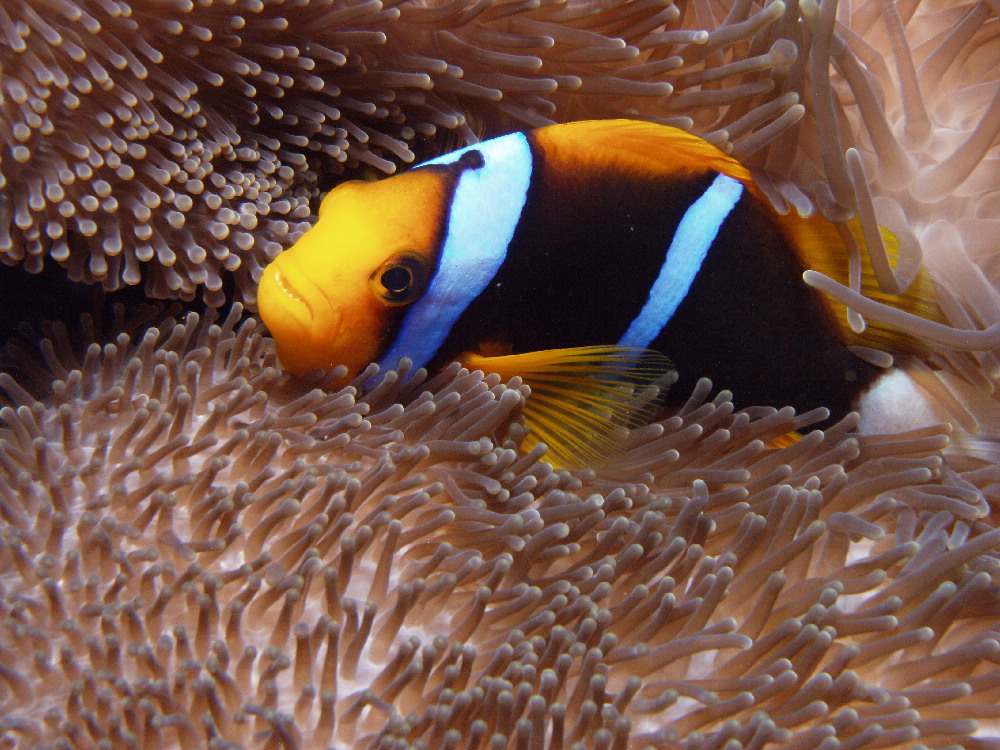 If you read any recreational diving publications, you probably have come to associate the word "Palau" with some of the best tropical diving in the world even if you have not been there. I don't know how many times I have read articles, advertisements, and "10 Top Most Popular Dive Destinations" lists highlighting Palau, then kicked back and wondered what it would be like to visit the warm crystal clear blue waters, thriving reefs, and bountiful pelagics that define this diving Mecca.
Unfortunately, life isn't as simple as wondering and wishing. Unlike bouncing to Hawaii or the Caribbean from the US, getting to Palau requires at least a full 24 hours worth of trudging through airports and enduring ass-numbing plane rides – and that assumes everything goes according to schedule with no delays. Another hurdle, of course, is money. Not only is the diving expensive, but so is getting to Palau from the US. As Continental Airlines is the only US carrier that services this island region, airline tickets can get very pricy. A friend recently checked into airfare and received a quote of about $3000 for a round trip ticket. Yep, that's coach. Yikes! Three thousand dollars can get you airfare to Egypt AND a week on a luxury dive live aboard in the Red Sea, and you would still have money to burn in Hurghada after the dive trip.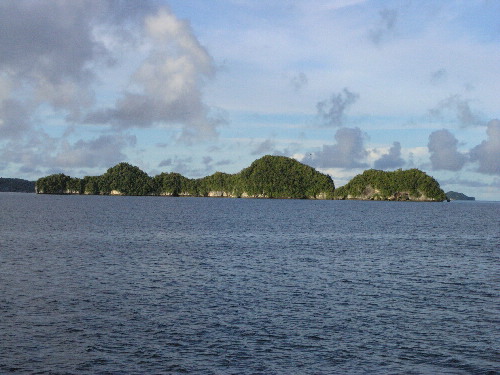 The Rock Islands of Palau – a pipedream or a reality?? Where there is a will, there is a way.
So Palau seemed to be destined to remain a pipedream. However, life often has a funny way of presenting opportunities when I least expect it. I was recently tasked with having to travel to Taipei, Taiwan, for business. As I hate business travel, I usually embrace these kinds of trips as I would a death sentence. However a little research on my part revealed that Far-eastern Air Transport (referred to as FAT in Taiwan) offers direct four hour flights from Taipei to, you guessed it, Palau, for about $500. So in one fell swoop I had the time and money hurdles whooped. Well, at least moderated. Bring on Palau!
Next I needed to pick a live aboard. I looked at three different charters for this trip – Big Blue Explorer, Palau Aggressor, and Ocean Hunter II. I started with the Big Blue Explorer as a week on the 150' live aboard is "only" about $2000, which is by far the least expensive of the lot. My initial research revealed that this boat caters to 18 divers. Not great, but not too bad. Sign me up! However, further research revealed that this boat actually can handle up to 36 divers, not 18. Visions of hitting nice drift wall dives with 35 other divers was a total turn off. Next…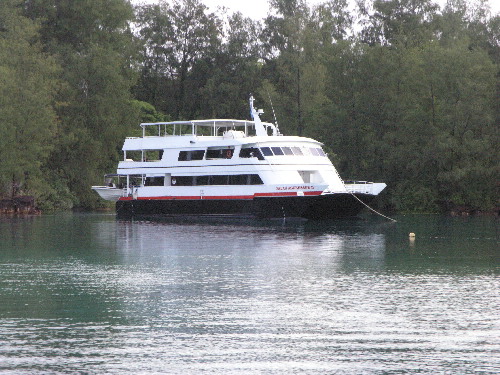 The Palau Aggressor at anchor.
Palau Aggressor was my second choice, coming in at a cool $2500 for a weeks diving. This turbine driven catamaran caters to 18 divers in total. However, I could not work out my work schedule to coincide with that of the Aggressors. Strike two. Maybe I'll just end up coming home and diving Possession Point with blue tinted lenses in my mask…
Last up was a funny looking boat call Ocean Hunter II. Ocean Hunter actually runs two boats. The Ocean Hunter I is a relatively small boat for 6 divers, and its schedule was not conducive with mine either. Also, it looked a little too cozy as I like a bit of space. Ocean Hunter II, however, was a 75 foot ex-Australian research vessel that was converted and retrofitted late last year for liveaboard scuba charters. Catering to a maximum of 12 divers, she seemed to be the ticket, but a rather expensive ticket at $2600.
OCEAN HUNTER II
The Ocean Hunter I & II are operated by a local dive operation called Fish and Fins. Not only does Fish and Fins book the liveaboards, but they run a small dive shop and day boats for resort based divers. I must say Fish and Fins was very accommodating. The made the booking easy, answering my endless stream of questions promptly over the Internet, and cordially picked me up and dropped me off at the airport. I have no complains regarding their administrative department whatsoever.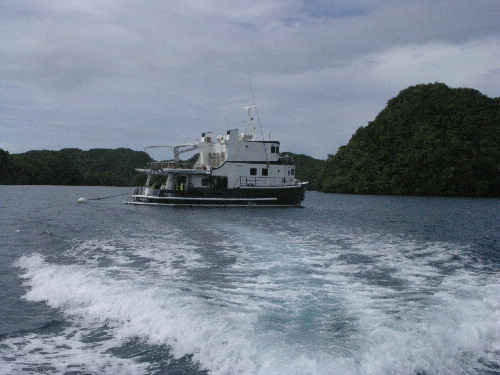 Ocean Hunter II: An odd looking but very well equipped dive liveaboard.
The boat is an interesting vessel and is well set up for diving. Her main level offers a big covered back deck for gear staging, a large "semi-dry" area to stage cameras and lights, a modest eating area and kitchen, and a small computer cove where the crew seemed to really like playing computer solitaire on off-hours. The bottom level housed 4 cabins. The top level, which was added during the retrofit, provides room for two more cabins, the "honeymoon" and "owners" suites. The "honeymoon " suite is insanely oversized, complete with sitting area, private balcony, and TV and costs about $300 more for the week. Me – I was assigned the "Owners Suite", which sounds absolutely glamorous. However, it was by far the smallest room on the boat. However, I didn't minded one bit as there where only six divers on this particular charter and I had the "suite", cubby, or whatever you want to call it all to myself. Each cabin had its own bathroom and shower.
The Ocean Hunter II sports two 18' newish rigid-hull inflatable boats (RIB) with nice, quiet 4 stroke Yamaha motors. On many dives we just jumped off the back of the Ocean Hunter II, but every so often the RIBs were used to whisk us to and pick us up from dive sites.
Being recently retrofitted, the Ocean Hunter II was relatively clean and modern, boasting plenty of outlets of both 110V and 220V power. She has twin screws and a steel hull, and seemed very solid in the water. She cruises at only about 10 knots, but you don't have to travel far to get great diving in Palau. She is fully outfitted for Nitrox and can do Trimix on request. I and four of the other five divers on board took advantage of the $199 package to dive Nitrox on all dives. None of the dives we did required us to go below 110 fsw, so we used EAN32 on all dives. As we spend a fair amount of time in the 60 to 90 fsw range on many of the dives, the mix greatly extended our dive times. Even with five dives a day, I did not go into deco once even with almost all my dives running between 60 and 75 minutes long.
The two dive ladders on the Ocean Hunter II's stern were excellent – the sort you can easily use with fins on. Once back aboard after the dive, we had easy access to a warm on-deck shower and a dry towel. Nice.
THE CREW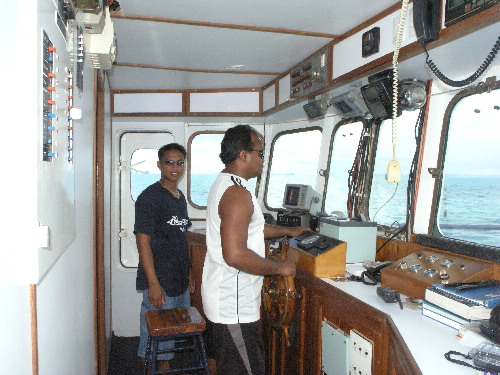 Captain Kenny and Richard on the bridge. Captain Kenny has over 5000 dives in Palau and has been as deep as 300 fsw – on air.
We had a crew of five - all Pilipino or Palauan, with the exception of one of the three divemasters who was Israeli. The Captain, Kenny, was a bit of a character and was definitely in charge. Kenny has over 5000 dives – all in Palau. All the crew spoke at least some English and were friendly, but seemed to lack some enthusiasm. Even diving in Palau gets old after a while.
The food and the service were good and the menu varied greatly. We ate after each dive, and believe me that resulted in a LOT of diving and eating. Freshly baked cake and fruit smoothies were the routine after our early afternoon dive.
We got brief pre-dive briefings (and I mean very brief) prior to each dive, and a divemaster joined us in the water on every dive. Sometimes they lead the dive; other times they just hung in the water and let us explore. They never really limited the time on the dives either. I wasn't overly impressed with the crew but they were certainly more than adequate.
THE DIVING
In a word – awesome. And we didn't see anything real unusual the week I was there. We just saw the "usual" stuff, and I have to say it is the best tropical diving I have ever done. I did a total of 28 dives and two snorkels in the six days. We only saw divers from other boats on four of our dives, which was a bit surprising as all the sites we did are within striking distance of the resort based day boats.
The first five days were spent out along the southeast coast of Palau diving some of the more well renowned drop-offs and reefs near the Rock Islands. All of these sites were beautiful (above and below the water) and presented droves of robust hard corals and colorful reef fish.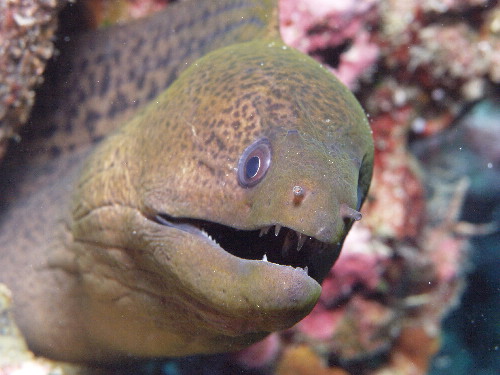 Morays in Palau are relatively small (3 to 4' long) and sometimes hard to find amongst the thick hard coral cover. But they are there if you look!
Several of the sites really stood out. BLUE CORNER was hands down my favorite. This site highlights an off shore plateau that drops vertically from about 45 fsw to as far as I could see with 120 foot vis. Reports are the wall bottoms out around 300 fsw. Anyway, staunch currents running over this protruding plateau creates a food delivery system for a number of pelagics. The stars of the show are grey reef sharks, which run 3 to 5 feet in length. At times we could see eight or nine of these predators methodically cruising the drop-off. White tip and black tip reef sharks also patrol the reef, as do a massive school of bigeye jacks, various barracuda species, gigantic bumphead wrasse (over 4 feet in length), hawksbill turtles, and travally of varying species.
When the current was running, we would hook in our reef hooks at the top of the wall and hang like a leaf on a tree during a windy day and just watch the show. When the current was not running, we would leisurely work the edge of the plateau and adjacent coral reef. I could have done a dozen dives at this site. Other sites we dove that were very similar in pelagic and reef activity where BIG DROP-OFF, NEW DROP-OFF, and PELELIU CUT.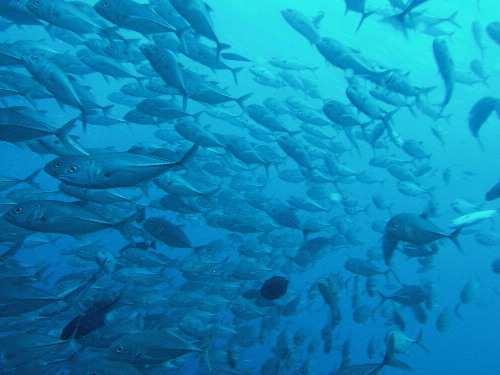 Thick schools of bigeye jacks frequent the drop-offs around Palau

.

We also dropped into a number of different natural blue holes. The BLUE HOLE site is probably the most famous, but we also did a couple of other locations that offered equally beautiful natural caverns and surrounding reefs, including TURTLE COVE BLUE HOLE. Dropping through the dark blue water with the ambient light from above was quite exhilarating.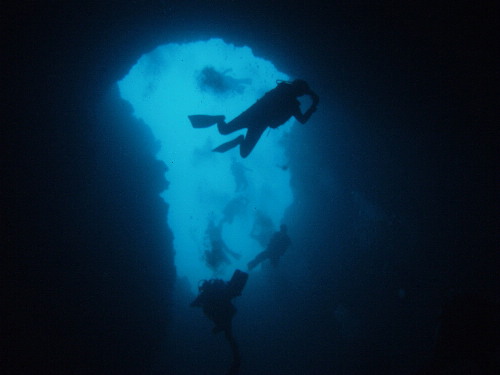 Divers drop in from above at BLUE HOLE. This was one of the few sites we actually saw divers from other boats while underwater.
Palau's waters are also the home of various ship and aircraft wrecks, most victims of WWII. One of the two wrecks we dove was the Iro Maru, Palau's largest shipwreck that is accessible to recreational divers. The Iro Maru is a +450' Japanese oil tanker that was torpedoed in the Philippines, then towed to Palau for repairs. She was then bombed and sunk by the US Navy. Vis was only 10 feet at this site, but we got to swim though the torpedo hole and had a turtle escort for part of this dive.
The other wreck was a "Jake" seaplane; a Japanese reconnaissance float plane that also ended up in the bottom during the war. She is relatively intact from the cockpit forward, and a shy grouper seems to have taken up residence under the fuselage.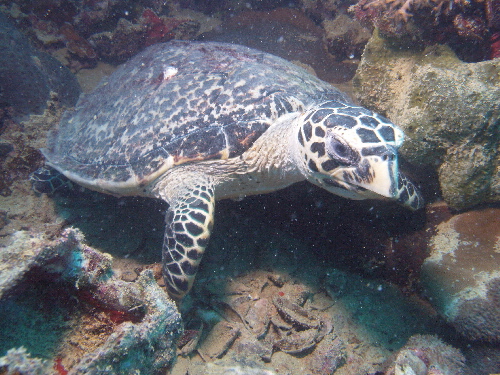 My host while diving the wreck of the Iro Maru was this little seaturtle. Despite the poor vis at this site, this turtle made this a special dive.
We also did four dives in GERMAN CHANNEL, so named because the Germans blew a channel through the reef during one of the World Wars to gain quicker access to the inland harbors. German Channel offers manta sighting opportunities. However, regardless if the mantas show or not, there was an overabundance of other reef and palegic life to easily keep my enthralled for an hour long dive.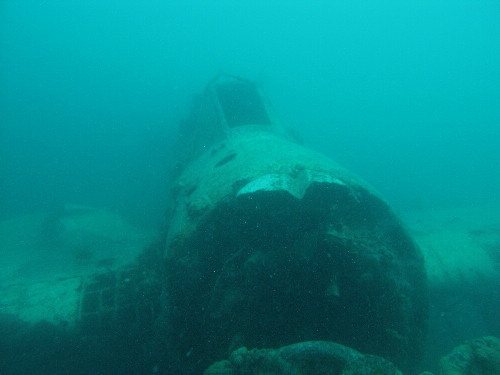 This Japanese WWII "Jake" seaplane is in definite need of some repair. However, she makes a wonderful shallow water wreck to explore at the end of the trip when we are trying to run down our no-fly times.
Night dives were offered every night except one. The colors of the reef just explode at night with an HID light. One of our night dives was at TURLE COVE BLUE HOLE. After dropping through the hole, the exit to the cavern gives way to a fantastic wall that is totally encrusted with hard and soft corals. The brilliancy and variety of colors was simply overwhelming. It blew away Fiji and the Red Sea on the color scale, hands down.
I also ended up on a couple of snorkel dives. One of these dives was at JELLYFISH LAKE. Although I wasn't overly excited about doing this "dive", I must admit I had a great time. It is a short hike into Jellyfish lake, and it might require a swim of several hundred yards as the jellyfish like to hang out in the sunshine (don't we all). The waters of Jellyfish Lake were balmy warm and dead calm. I ended up spending about an hour gently snorkeling around and through these fragile but stunningly beautiful animals. It was quite an experience.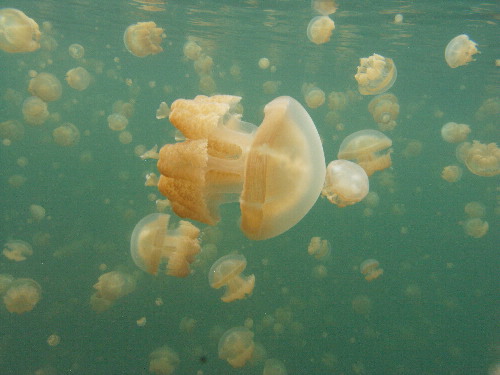 Mastigias jellyfish everywhere. Good thing these jellies have no sting.
On the last day aboard liveaboards I have been on in the past, the diving is usually very limited or non-existent as divers might be flying out the next day. However, one thing that impressed me with Ocean Hunter is that they gave us four dives on our last day. How? The last three dives were extremely shallow. One dive was at CHANDELIER CAVE, a cave system that runs back 150 yards into four sequential chambers. Beautiful stalactites decorated these caves – above and below water. We never broke 25 fsw on this dive.
The last dive was even shallower, with a max depth of 17 fsw as we poked around a small inland lagoon known as MANDARINFISH LAKE at dusk looking for little vibrantly colored mandarinfish. Neither of these dives significantly added to my computers no-fly time.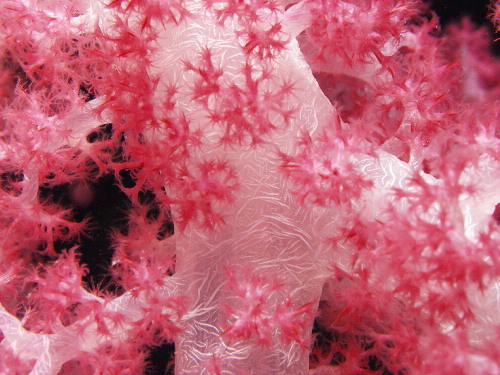 A macro shot of a branch of Palauan soft corals. These soft corals also come in pinks, oranges, and yellows.
Of the 24 dives we did on the outer reefs, I spotted sharks on all but one of the dives. We only saw white tips, black tips, and grey reef sharks, but it was good to see a healthy shark population. We also spotted a lone manta ray, an eagle ray, and a black blotch stingray. Giant schools of travally, barracuda, and jacks were also readily abundant. It was truly great to see an area where palegic populations have not been decimated.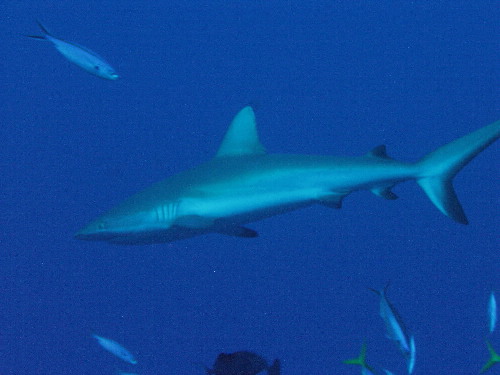 We saw sharks on every dive but one along the outer reef. At most of the drop-offs we would see at least a dozen. Most of the sharks were 3-5' grey reef sharks.
Every dive seemed to offer some unique encounter. On several dives we got to swim side by side with sea turtles. On one dive we had a very curious school of batfish hang out with us for a good 10 minutes. On yet another dive, we watched a school of massive bumphead parrotfish feeding on coral, then bolting away. Large dogtooth tuna grace us with brief appearances on occasion.
Every dive also offered reef fish galore – schooling pyramid butterflyfish, harlequin sweetlips, moray eels, big-eyed soldierfish, anemone fish, and puffers were all present on most dives, just to name a very, very few.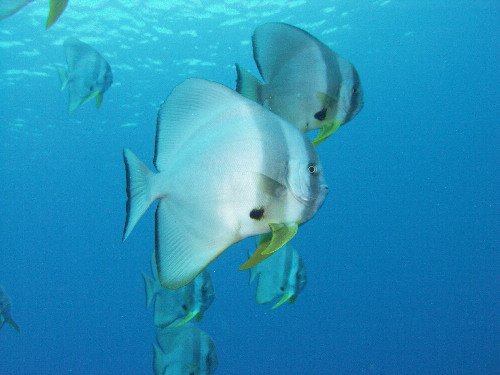 A school of curious batfish really made the dive for us at a site called FAIRYLAND. We spent a good 10 minutes just hanging in the water column as a school of about 20 of these fish continually checked us out.
Most of the reefs we dove here dominated by healthy hard coral formations. Quite a few of the sites also offered outstanding soft coral and sponge populations as well.
THE WEATHER AND WATER
Coming from Seattle, I thought the weather was great. November trough March is the "dry season" in Palau, but we had rain every day. The strange thing was the rain was like a Pacific Northwest rain – where it is not heavy, but it does go on for a while. Apparently this is unusual for Palau in January. However, it did not seem to affect the diving at all.
The air temp was mid eighties every day. We often had light breezes, and only on one day had some heavier wind at the exposed south end of Palau. The water was a comfortable 82 degrees. I dove a 2/3mm full suit with a skin underneath. On the rainy days, I wore a hood as well and stayed toasty warm.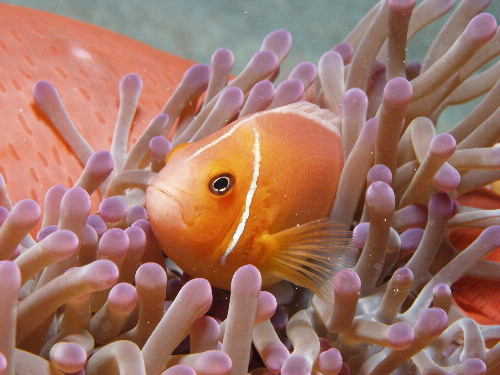 Nemo? Not quite. This is a pink anemone fish that has taken up residence in a gorgeous great anemone.
ABOUT PALAU
So if you are intrigued about Palau, here are a few factoids for your edification. Palau is located a few hundred miles to the southeast of the Philippines. It is part of the Marshall Islands and Micronesia. Palau is actually a republic of small islands. The capital of Palau is Koror, but it is very small, sleepy town. Don't expect wild nightlife in Koror if you visit. In fact, don't expect any nightlife unless you are at a resort. All the more reason to night dive.
US currency is readily accepted in Palau. Palau also uses the US postal system, so you can mail a letter here from anywhere in the US for a whopping $0.37.
Palau was a US territory after WWII until recently. Some very bloody battles between the Japanese and US were fought in this area.
Koror offers many of the western amenities in moderation, however the infrastructure is a bit fragile. On the day I visited Koror, the (note I use the word "the", not "a") telco/ISP provider was down all day, which meant there was NO communications going on, telephone, cellular, or Internet wise. I almost resorted to a message in a bottle to contact my wife.
SUMMARY
Wow. I wish I could do this trip again, although diving 5 times a day does get to be a bit much when the weather is cooler. On sunny warm days – no problem! Palau definitely offers some incredible tropical diving, and I can easily see why it rates very high on the pelagic list. However, the coral reefs also rank up there on the "wow" scale with any I have had the privilege of diving.
It appears as if Palau is taking some steps to preserve their marine resource as diving is their countries top revenue generator. Most sites prohibit anchoring and offer mooring buoys, and there is an obvious lack of commercial or major local harvesting of aquatic life. Kudos to Palau. However, all this pristineness and uniqueness doesn't come cheap, but some of the good things in life are just going to cost ya.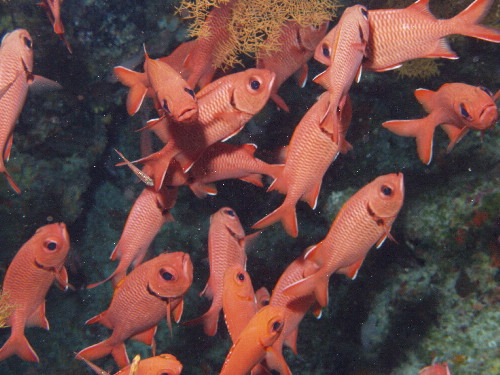 Armies of different species of soldierfish were readily found patrolling all the reefs we dove.