The Red Sea
The good, the bad, and the ugly (but mostly good)
November 2003 by Keith Clements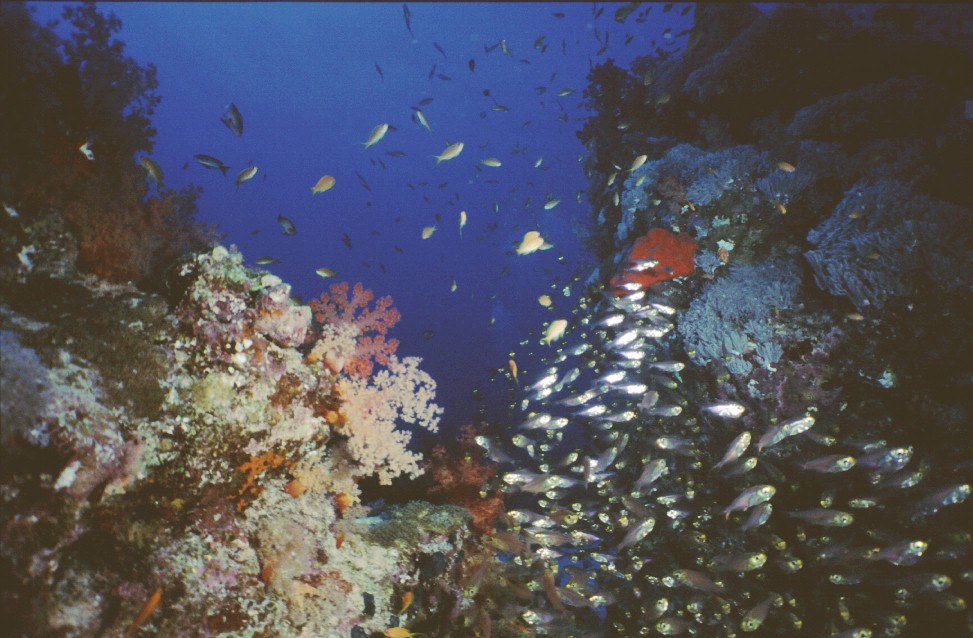 Is this what the Red Sea is all about?? Absolutely!
When I hear someone say "the Red Sea", visions of extraordinary diving pop into my mind. Huge shoals of colorful coral and fish, crystal clear warm waters, and chance encounters with highly touted pelagics. If I am not mistaken Jacque Cousteau rated the Red Sea as the best diving in the world, although that was some time ago. I also heard that the legendary Mr. Cousteau rated my backyard waters of the great Pacific Northwest (Puget Sound and British Columbia) number two on that list behind the Red Sea.
Having about 600 dives on the runner up I was anxious to see what the "best" had to offer. So on a recent business trip to India I couldn't resist the opportunity to dive the Red Sea on my way back. Perusing the Internet revealed that 7 day liveaboard "all inclusive" trips aboard pristine looking luxury yachts could be had for around $1300 (including airfare from London but excluding marine park fees, crew tip, and alcohol). I later found out from some of the Brits on board that do this routine on a regular basis that certain dive travel agencies will sell slots aboard the same liveaboards for about $900. You live and learn.
Most of the diving in this area revolves around two themes - gorgeous reefs and historic wrecks. Being a marine life buff I was more interested in being a "reefer" that the "wrecker". I eventually booked my passage through a company called Diving World out of the UK aboard a brand new vessel called the Blue Pearl – a very beautiful and sleek looking vessel per the photos of her on the Diving World web site. The plan was to fly from Gatwick airport near London to Hurghada, Egypt, board the Blue Pearl, and hit three amazing off shore reefs including a well renowned site called the Brothers. However, days before I left on my trip I was informed that my boat was not going to be ready on time and the only alternative was to dive a "mixed" route which included stops at the Brothers and a number of the premiere wrecks sites in the Red Sea. As the Brothers were on the schedule (for three days), I was still game. The boat I was reassigned to was the Kawarty II, another relatively new first-class luxury dive vessel that also runs about 100 feet in length.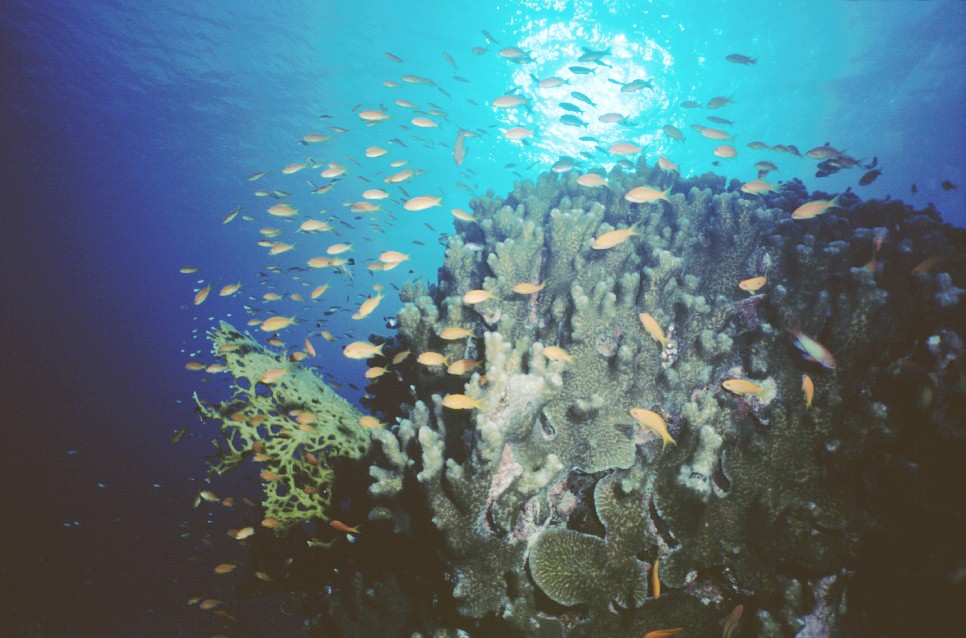 Incredible vis, coral reefs, and abundant fish define the Red Sea offshore reefs.
Getting There
After severing my term in India and overnighting in the UK, I was off to Egypt not having any real clue what to expect. I got into Hurghada after dark, acquired an Egyptian visa (which is just the Egyptian governments way of extorting an extra $20 per tourist), and cleared a very slow moving customs line in an hour. A person from Diving World was there to meet me and the others and directed us to the bus which would take us to the boat. We boarded the bus and waited for about an hour until another person joins our posse from a later flight, then we were off to what I assume is the boat moored in nearby Hurghada Harbor. But wait – first a few stops. First a beer run as alcohol is an additional and lofty charge onboard, then a stop for gas (which by the way was about $0.25 per gallon). Why they couldn't have filled up while we were waiting for an hour at the airport I do not know. Next, a 5 minute stop at a Diving World office (reasons unknown), and finally another stop at a hotel to pick up another diver that will be joining our little expedition. By this time it was about 9:30 PM, but I figured we will be onboard the boat by 10:00 PM. Wrong. I then find out that there were problems with the boat and it is moored about 120 miles away south of a small town called Al-Quseir. The bus ride to the boat should be about 2.5 hours according the Diving World representative.
We started on the arduous journey in the dark. To my and everyone else's amazement, the Egyptians appear to like to drive around at night with their headlights turn off – only the parking lights are turned on in addition to fancy little blue disco lights they all seem to add to their cars. To cap it off, they then high-beam oncoming traffic! In the US, that kind of driving will solicit some rather rude hand gestures. But out here it is just the way of the desert. Maybe someone ought to translate an automobile owner's manual into Arabic so the Egyptians know what headlights are for.
Two and a half hours later we were still on the road with our headlights turned off. Thank goodness the moon was out and the skies are clear. We finally stopped, but it is at a road side coffee house. And believe me, this coffee house is no Starbucks. It was midnight, I had been traveling close to 24 hours, I was exhausted, hungry, and the bus driver wanted to take a break. A 30 minute break. The bus driver drank coffee and socialized with some of his buddies while a few of the passengers did the communal Arabic smoking thing. Geez – what had I gotten my self into?? At 12:30 AM, we got underway again. Several of us asked the Egyptian driver "how long?" "Thirty minutes" was the reply. Almost an hour later, we were still motoring along and finally pulled off the highway to the boat. Our little road trip took over 5 hours in total – as long as the flight from London. The boat crew gave us a bite to eat, a quick briefing, and we were off to sleep. Traveling alone, I was assigned to the forward V-berth cabin with three other single guys. Cozy. But at this point I didn't care as I just want to get some rest.
The Boat
In the morning I was able to shake the cobwebs out of my brain and give the boat a good look over. After all, as I was going to be spending the next seven days on her and I need to make certain she will hold – or at least hold out - water. The boat was actually a little bit of a surprise. The Kawarty II has very nice, graceful lines. She is very modern looking and is only old six months old. But upon closer inspection, I would have to guess she was at least six years old. She is completely constructed of wood (including the plywood hull). My understanding is the Red Sea dive companies run these boats for three years as first class dive boats then sell them. They have an expected life of about 10 years – that is it. They are NOT made to last. Peeling paint, loose screws, and poorly sealed joints are commonplace. She looks awesome from the distance, but don't go over her with a microscope or you will be disappointed. When I asked about this "disposable boat" philosophy, the answer I got is that the Egyptians tend not to look after their equipment too well (one look around Hurghada will convince anyone of this), so this is the most economical approach. Someone told me they can build one of these throw away 100 foot vessels for about $500K.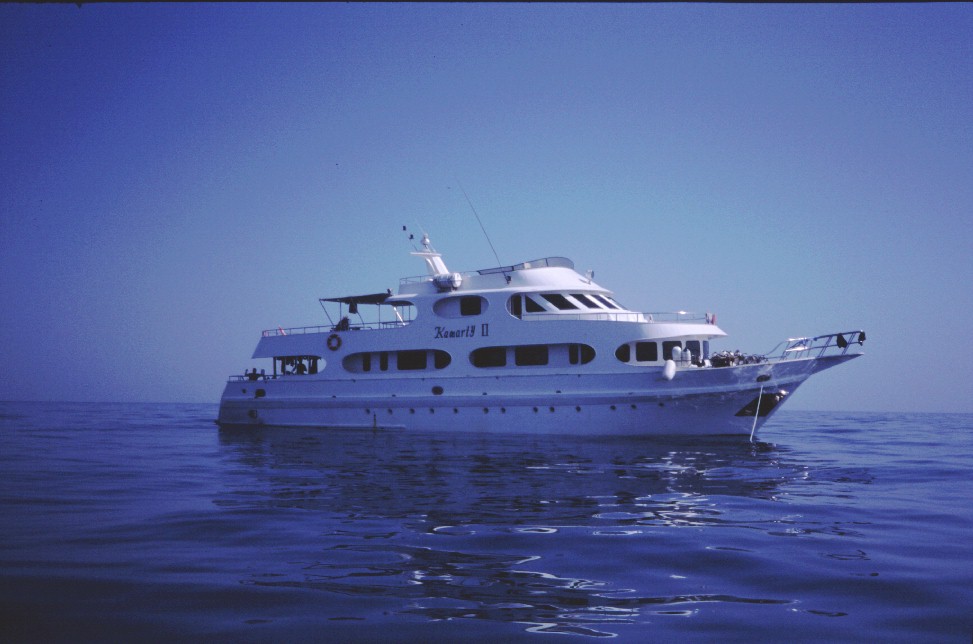 The Kawarty II on placid seas
The boat is air conditioned and each cabin had a small bathroom and shower. The cabins are relatively nicely finished, as was the main cabin where we ate and socialized when not outside. She has a well equipped back deck for diving and had two rigid hull inflatable Zodiac boats to assist with diving when needed. Warm fresh water showers are available on the swim platform and on the back deck. She is totally set up to dive. We had 13 divers aboard her which she handled without batting an eyelid. Her capacity is 20, which might be a bit tight.
The Crew
The crew on the boat was Egyptian, although our two dive guides were British. I believe Egyptian crews are required by law for boats operating out of Egypt. The Egyptian crew only spoke semi-broken English, but they were very friendly and on the ball. They work hard for what I imagine is not much pay. They were there to help us in and out of our gear, whether we wanted help or not. We joked with them and threw each other overboard on occasion (all in good fun). They slept outside on the deck at night under the stars. Kudos to the crew.
The Group
We had an interesting group with a very international flavor. There were 14 of us in total (one non-diver). We had representatives from England, Switzerland, South Africa, France, Australia, and of course the US of A. About half the party was English. Everyone spoke fluent English with the exception of one of the Swiss couple. Most of the divers were in their 20 and 30s, with the average dive experience being around 250 dives. There were a few novice divers on board. The most experienced diver is a Brit who had racked up about 5000 dives. All the divers seemed to do very well in the water, although there was one underwater situation where a diver somehow ended up with 300 psi at 60 fsw with a 10 minute deco obligation. Oops. His buddy bailed him out. I was buddied up with an Australian lass who was an ex-instructor. She was an outstanding dive buddy, exhibited good diving skills, and was very conscientious in the water. Having a good buddy can make all the difference in the world. We were usually the last out of the water on most dives as really liked to take our time.
When out of the water we had a good time socializing and joking around. The group was fairly easy going. We were on vacation, after all, so there was no reason to get all wound up.
The Gear
I quickly discovered that if you want to be internationally astute, you need refer to your diving gear as your "kit". I was running a long six foot primary hose on my "kit" and a redundant 6 cu ft – err, 0.9 liter pony. Some of the other divers and crew looked at my 6' hose in amazement. Most of them had never tried split fins either. Also, all the pressures are in bars and depths in meters. I learned to divide by 3.1 and 14.7 real fast. At least I did not need to convert minutes.
When doing my research I couldn't pin down what water temp to expect in the Red Sea in November. I found numbers ranging from 68 degrees to 80 degrees. I opted to take a 5mm wetsuit to make certain I stayed warm on hour long dives. The water temps ranged from 75 to a toasty 81 degrees at depth. I was very comfortable in my 5mm suit and never got cold. Also note that gloves are not allowed in the Red Sea. My philosophy is that if you need gloves while warm water diving, you probably need to hone your buoyancy skills. The Egyptians obviously agree with this philosophy.
I carried two safety sausages, two cutting devices, and a 100 foot reel on all dives for safety, especially as I did not know who I would be diving with. I never had to use any of it, however it was nice to know it was there if I needed it.
The Diving
The first morning we get underway early (about 7 AM). I got about two hours sleep the night before adjusting to some snoring and the sounds of the boat. We are in the water before 11 AM for our checkout dive, and I decide to leave the camera behind (mistake). We dive a beautiful reef called Shuna Reef. Vis is about 80 feet, the water temp 81 degrees, and corals and reef fish abound. However, the highlight is a lone bottlenose dolphin that spends about 5 minutes with us before retreating to the blue. We then motor over to another reef called Ras Toronbi and do an afternoon dive and night dive to round out the day's diving activity. Ras Toronbi also boasts a very nice reef, although the vis was only about 60 feet at this site. Ras Toronbi affords me my first cuttlefish encounter. Coolness!
We then motor all night to what I consider the main event. About forty miles off the Egyptian coast is a set of two small islands called the Brothers Islands. The Red Sea is expanding geologically speaking as the Middle East subcontinent and the African continent drift apart. This drifting has created a huge trough in the Red Sea. However a little strip of land that contains the Brother Islands somehow got left behind, which is lucky for us. The two islands stand maybe 50 feet above sea level and are totally flat, except for a lighthouse and number of outbuildings for the lighthouse crew. Two workers man the lighthouse and four army soldiers protecting the facility (against what, I have no idea) for three months at a time. Beautiful reefs surround both of the Brother Islands. From the Island, the substrate drops quickly to about 7000 fsw.
Our first dive is on the smaller of the two islands, Little Brother. As soon as we hit the water, I know I am somewhere very special. Seventy nine degree water and close to 200 feet of vis. However the marine life here is what is blows me away. Pristine corals, both hard and soft, and swarming schools of countless reef fish in every color imaginable. It is hard for me to keep my excitement and breathing rate under control, but I manage. After a 70 minute dive, I end up back at the boat. As I hang under the boat in the crystal clear blue, I note a distinctively sinister looking shape moving my way – very slowly and swaying from side to side. I immediately recognize it as a shark. From the white markings on the fins, it appears to be a white-tipped reef shark that I have seen a hundred times before in Hawaii. However, something is very wrong. This shark is much thicker though the body than the reef sharks I know. And it is longer – about 6 feet in length. The dorsal is also rounded as well – oceanic white tip! The open water hunter comes within about 6 feet of me, leisurely circles a few times then meanders off. Awesome!
Looking at Little Brother Island – the substrate slopes down about 7000 feet from this offshore reef.
A few days later we were talking to another boat that was diving this same location the day after we did. The oceanic white tip apparently came back. The report was that some of the divers on the other boat provoked the white tip and it responded by attacking their inflatable boat. It ripped out one of the air chambers rendering that boat useless. Who would be that stupid as to purposely provoke a shark, especially an oceanic white tip? However they are, they sound like a prime "Darwin Award" candidate.
Later that day we dive two magnificent wrecks on the north end of Big Brother. The corals and marine life are just as hearty, and green sea turtles accompany us on both dives. The first wreck we dive is the Numidia. She is about 500 feet long and runs down well below safe recreational depths. The second wreck, the Aida, starts in about 85 fsw and runs down to 190 fsw. It is almost as if someone sawed the Aida in half as she lies with her decks exposed upslope. Both wrecks are fish magnets, as is the surrounding reef area. We do not see anymore sharks, but do see barracuda, green sea turtles, and a huge Napolean wrasse. At the end of the day I have to exclaim hands down that this is the best tropical diving I have ever done.
I was more than a little surprised to see many of the Europeans diving consistently to depths of 150-180 fsw range on air. Many of these divers only had a one or two hundred dives under their belts. I went to 140 fsw on one dive at the Brothers, which is often considered deep by northwest standards. I am very aware of narcosis when I dive in the northwest and I did not feel it here at all. I kept checking every 10 feet from 100 fsw, but my thinking did not seem to be effected (although I know that it must have been). I am certain the outstanding vis and bath warm water helped put my mind at rest so the narcosis was not as noticeable. I must admit, to be at 140 fsw on the Brothers and see beautiful reef and all it's inhabitants 200 feet in all direction and the surface plain as day is quite a sensation.
The next day we are on the move again, which is a huge disappointment. When I purchased this trip, I was under the impression that we would be spending three days on the Brothers. At four dives a day, I was expecting 12 dives. However, no night diving is allowed on the Brothers due to the unpredictable currents – so strike three dives out of the gate. Then our dive master told us we would dive one full day on the Brothers followed by one or two more dives the following morning before heading to the wrecks – now I am down to five dives. As we never got the second morning dives in at all, I only got three dives at this Mecca of dive sites.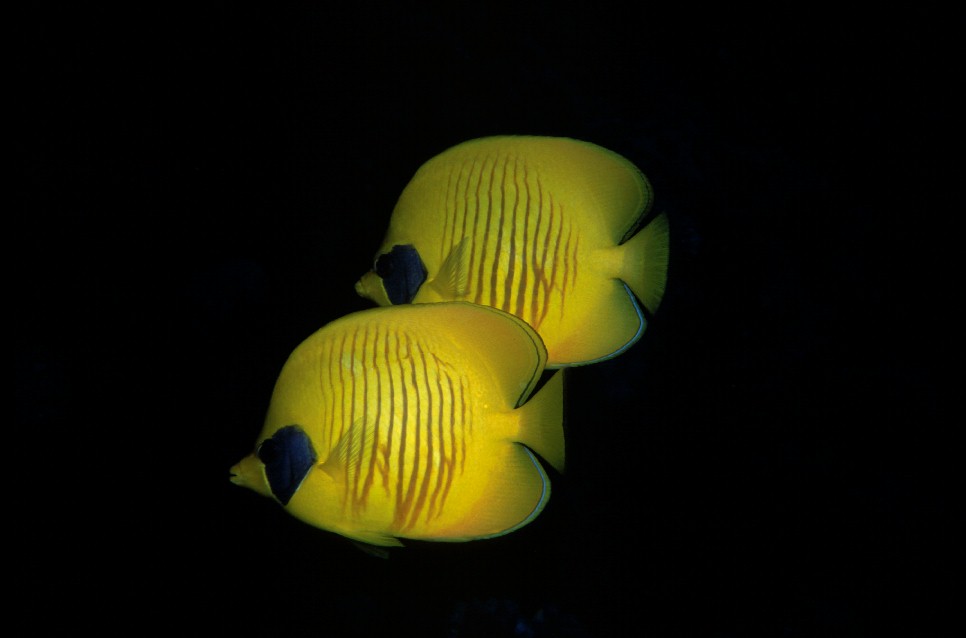 Countless species of butterflyfish cruise the reefs by day and night.
We cruise north for part of the night and hit a reef called Gifton Seghira in the morning – a nice reef indeed but not up to the caliber of what we were diving the day prior. I get to see the elusive crocodile fish on this dive. We then hit a couple of wrecks called the Giannas "D" and Carnatic. The surrounding reefs are relatively poor. As these wrecks are within striking distance of the day boats, it is essentially combat diving with vis cut in half due to all the divers kicking up silt. For the night dive this day we jump off the back of the boat in 20 fsw and mull around looking at some coral heads and fish. There is plenty of fish and invertebrates to keep us entertained for the 45 minutes allotted to the night dive. The best part of the night dive was that we were not mauled by 50 other divers.
The next morning found us at a seldom dived reef called Shag Rock. It is very near the shipping lanes for the Suez Canal so has claimed a few ships in her time. Our first dive on this reef is on just such a wreck – the Sarah "H". She was a fishing boat of
maybe 200 feet in length. The wreck sits in the midst of a beautiful reef and is totally encrusted with corals. The Sarah "H" is a fish magnet and diving her is absolutely stunning.
A sohal surgeonfish guarding the Sarah "H"
Our second dive is on the south end of the same reef – no wrecks, but plenty to look at. Another top notch dive. On both dives vis is better than 100 feet and we see turtles, dense hard and soft coral formations, and more reef fish than I could count in a lifetime.
After a couple of "Shagadelic" dives at Shag Rock, we are off to the marquee wreck dive in the Red Sea – the Thislegorm. The Thistlegorm lies on a sandy substrate in 100 fsw. She is a 415 foot, 5000 ton freighter that was sunk at anchorage at night by a German bomber in 1941 during World War II. Funny thing is that the bomber was actually looking to sink the Queen Mary which was supposedly transporting British troops at that time. When it did not find the QM, the bomber hit whatever was available. Bad luck for 9 crew members that went down with the Thisltegorm, God rest their souls.
What makes this British freighter unique is she is still full of cargo – jeeps, riffles, boots, motorcycles, munitions, and who know what else. When we get to the Thistlegorm, there are about seven other boats already moored to her. We do an afternoon dive on her and it was a literal zoo. The poor ship has close to 120 divers on her foraging about and kicking up silt – it is just a joke. Vis is maybe 40 feet. My buddy and I stay mainly on the front portion of the ship and just try to stay out of everyone's way, although we did drop down into a couple of the wide open cargo holds.
That night we dive her again. There is only one other boat diving her this time and vis improves a bit to about 50 feet. Being night, we do not do any penetrations as we can not see the sunlight marking exit routes. We stay on the top deck in 60 fsw and had a descent dive.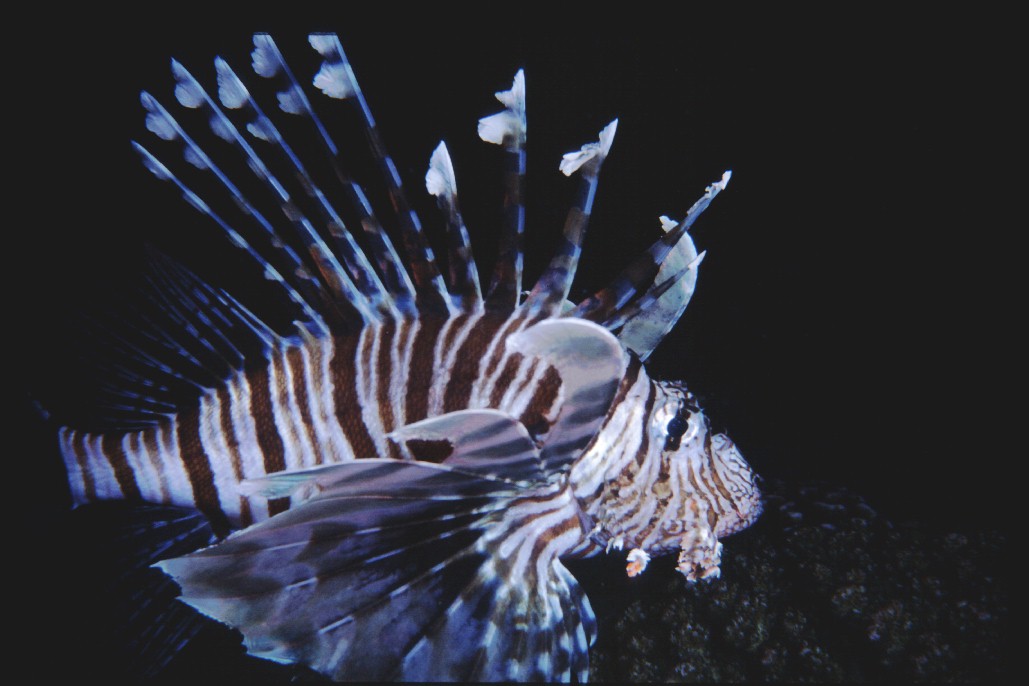 A lionfish patrols the deck of the Thistlegorm at night.
We then get up at 5 AM the next morning to dive her yet again. Two other boats were moored to her overnight as well, but we are first in the water. My buddy and I wait about 20 minutes after everyone else from our boat went in. Then it is our turn. We do not see another sole on the vessel until the very end of the dive. We descend on the port side of the ship to the seabed, visit a locomotive that had been blown off the ship during the explosion and landed upright about 15 yards away, fin over to the stern to look at the one exposed massive prop and the rudder, cruise up on the deck by the rear gun emplacements, glide over the blast area where the bomb exploded in a cargo hold full of munitions (creating quite a mess I might add), then penetrate and work our way up some of the cargo holds taking in the dozens of encrusted jeeps, trucks, and motorcycles all efficiently loaded into the hold. I am not one for wrecks, but this is an awesome experience. Vis is close to 80 feet, and we have just enough ambient light at 5:30 AM to make this a stunning dive.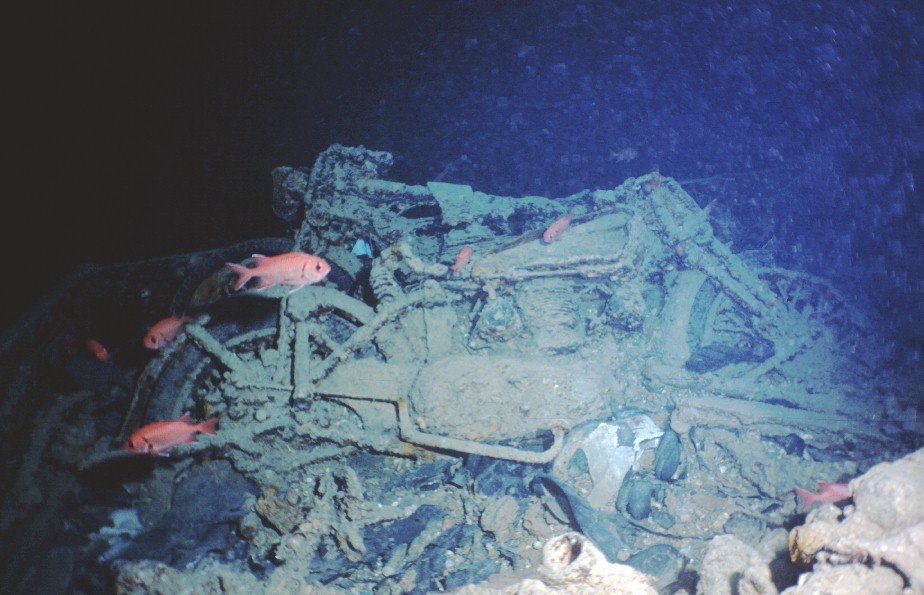 A 1941 BSA motorcycle that is now the properly of soldierfish and stowed in one of the cargo holds of the Thistlegorm.
Unfortunately, divers have taken a huge toll on this war grave. Anything a greedy diver can pry off the Thisltegorm has long been pried off. The onslaught of divers that visit her every day continually break off any marine growth that attempts to grow on her, and the weight of the diving boats anchored to parts of the bridge have resulted in the premature deterioration. Despite all that, she is a true spectacle.
Our next dive is another wreck called the Rosaline Moller, which was actually sunk two days after the Thistlegorm. This is a much deeper wreck with the top deck resting in about 100 fsw. Vis here is relatively horrid – about 30 feet or so. Like the Thistlegorm, this wreck is not covered in corals either. I imagine she would be if she was left alone, but the constant flow of divers inevitably breaks off anything that tries to get a foothold on her. However, the fish are packed in here like there was no tomorrow. And there was no tomorrow for some of the fish as they were being rounded up by tuna and trevally. I enjoy watching the roundup. Sometimes the fish schools are so dense that I can not see my buddy or the wreck five feet away.
Next, it is on to two very lame reef dives at a place called Shaab El Erg. Unspectacular reefs and mediocre vis at best (around 50 feet). It is here that we spotted the infamous brown nudibranch as the boat tied up to us apparently did not have a proper waste disposal system. Yuck.
The final dive morning we haul anchor and run a short distance to another reef called Shaab El Qamar. The reef is descent, although nowhere near as spectacular as the Brothers or Shag Rock. As it is within easy range of the day boats, I am certain droves of divers have taken their toll here as well. However, as we are here early in the morning we have the reef all to ourselves. Vis is outstanding at this site, 150 feet or more which is a big hit with me coming from the murky waters of the Pacific Northwest. There are several small caves to explore in the shallows, some big enough to swim into. Our final dive is late morning on a Minesweeper called El Nima that was sunk in 1967 by the Israeli Air Force. She is lying in about 100 fsw on a dead bottom. She is an interesting ship to dive and see, although once was enough for me.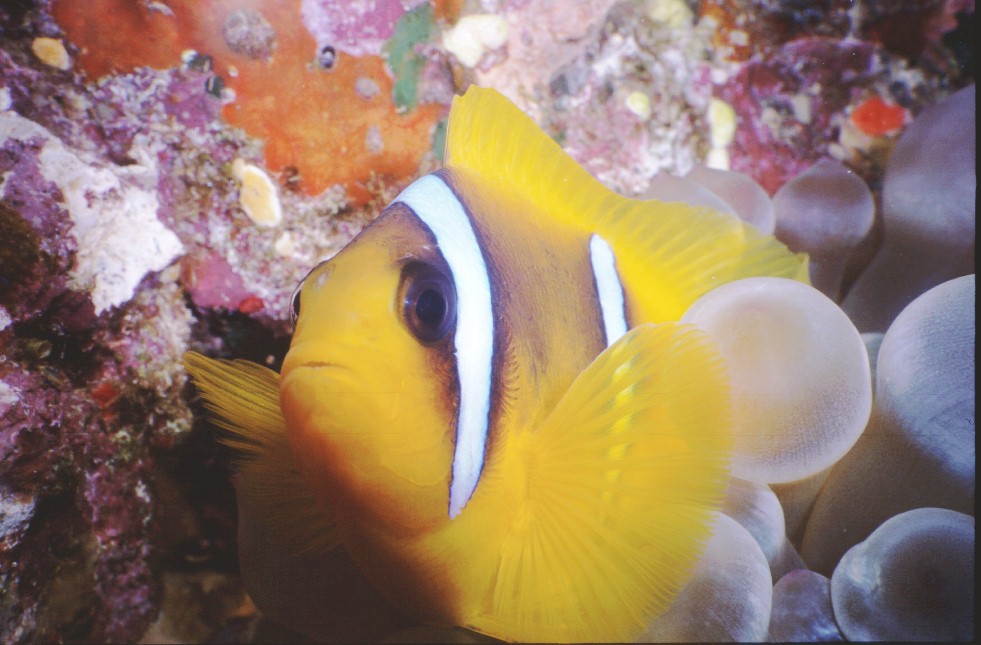 Anemonefish could be found on almost every reef dive, including Shaab El Qamar.
The Aftermath
We get back into Hurghada by noon on our sixth day and have over a day to kill before we are transferred back to the airport. Hurghada is not exactly a fun place to hang out, but everything is cheap. Egypt is like Europe's Mexico. I go to lunch on the last day at Pizza Hut (after India and Egypt, I was hungry for some pizza). For US$5, I get a small pizza, soft drink and had enough left over to buy my daughter a t-shirt on the way back.
Like Mexico, everyone in Egypt seems to be after you for your tourist dollar. The desperate locals often use high pressure sales tactics. You have to be able to give the local merchants a firm but polite "no". Prices in many of the shops are usually negotiable. I bought a t-shirt with a price tag of $12 for $3. Even at the airport there were airport "workers" posted at the restroom trying to charge people to use the restroom. They tried to extort $15 from one of our party who basically told the "attendant" to get bent. Anything for a buck. Or at least an Egyptian pound.
The Marine Life
Fiji (Beqa Lagoon) has the Red Sea beat on color, but that is about it. The marine life here on the pristine reefs is just awesome. I wouldn't even know where to start when it comes to identifying all the specific species of reef fish and corals that inhabit this area. At the more pristine sites, there were more species and varieties of reef fish than I had seen anywhere else by an order of magnitude.
We saw several species of the flamboyant Lionfish on almost every dive. Anemone fish or clownfish were also common, and make great photo opportunities with macro framers. Giant moray eels – up to about 8 feet long – were spotted on almost every dive. I had only seen one giant moray prior to diving here. This trip I saw around 30. In Fiji, we got excited when we saw a lone blue spotted ray. On this trip I saw at least a dozen of these colorful rays with a yellowish body and bright blue spots.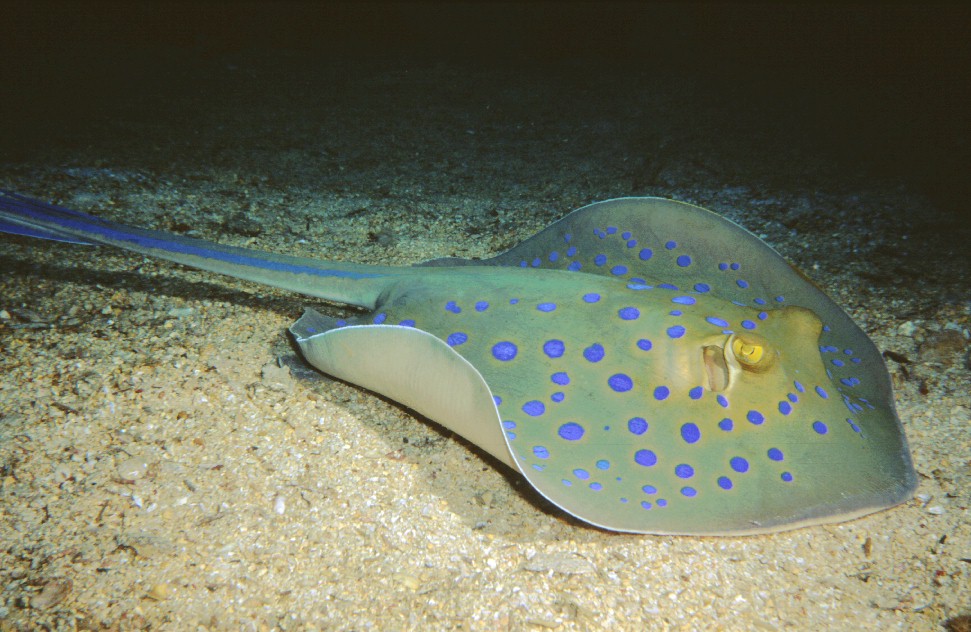 A colorful and always welcome companion – the blue spotted ray.
Barracuda were spotted at the Brothers and some of the other deeper reefs, as were trevally, jacks, and tuna. More sly are the long, slender cornetfish which sometimes followed us and used our bubbles for camouflage. On more than one occasion I would turn around only to see three or four cornetfish, all about a yard long, looking at me as if to say "What? Is there a problem here?". Multiple varieties of brightly colored parrotfish, tangs, groupers, butterflyfish, unicornfish, hatchetfish, scorpionfish, chromis, goatfish, wrasse, batfish, snapper, sweetlips, and countless other species provided endless entertainment. Schools of hundreds of colorful anthias graced many of the corals heads, and blue tinted fusiliers cruised the mid water. One fish that really stood out was the sohal surgeonfish, which sports absolutely stunning coloration but can be rather bold and aggressive. My buddy and I had an encounter with one rather put-out sohal surgeonfish that tried to run us off part of the Sarah "H", harmlessly nipping at us at every opportunity. Fish, fish everywhere.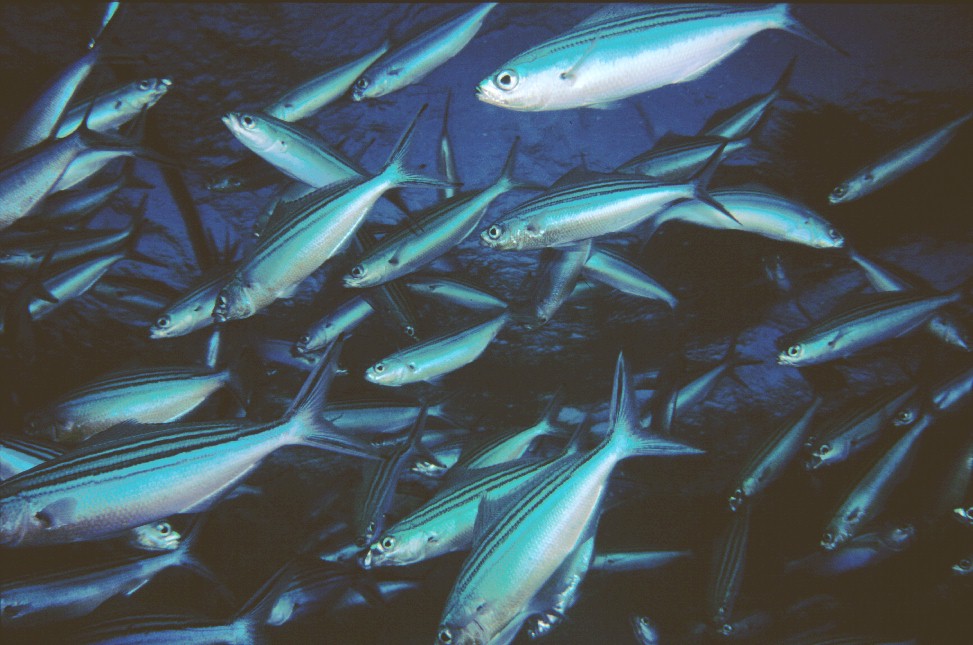 Schools of colorful fusiliers joined us on most dives.
The corals here are equally as beautiful, with a nice mix of card and soft corals. Most of the corals are pink, orange, white, and red. The coral coloration is not quite as striking as Fiji, but it is extremely beautiful none the less. At several locations gorgeous sea fans dotted the seascape, some over 3 feet in diameter.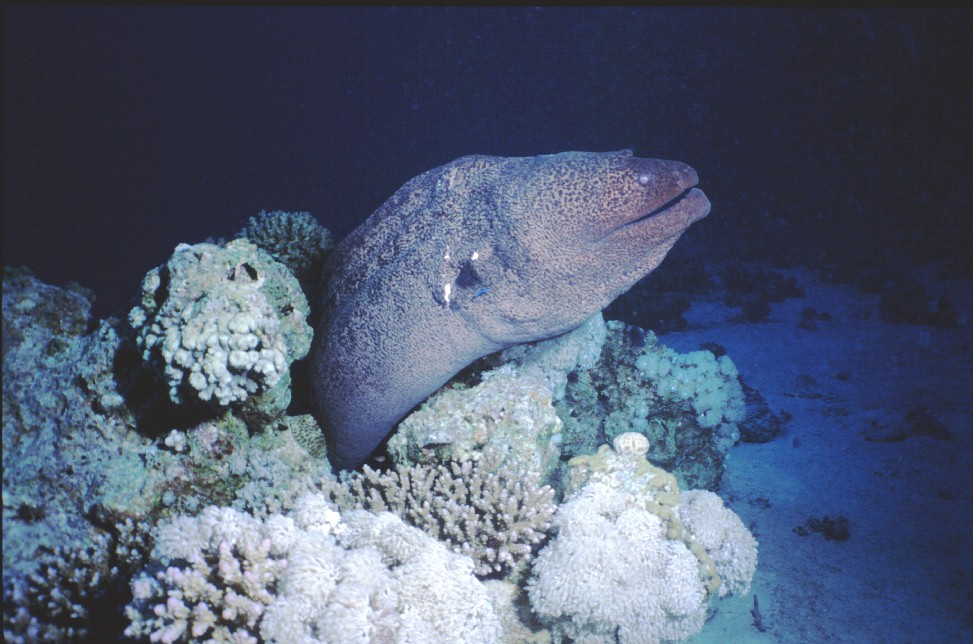 The Red Sea welcoming committee – usually hosted by a giant moray.
The Weather and the Currents:
The weather was fantastic. Uncharacteristically fantastic according to the dive guides. We had very calm seas at the Brothers and never really got battered about as I was expecting. I do not think the seas ever got above two feet. As expected, every day was sunny and hot with temps running around 85 degrees. Certain days were more humid that others, but it was all very tolerable. We spent the entire trip in shorts, t-shirts, swim suits, and barefoot.
We also never ran into any real currents. Currents in the Red Sea are totally unpredictable (which helps explains many of the wrecks with slow moving freighters combined with the fact there are many reefs out in the middle of nowhere). The Red Sea is not really subjected to predictable lunar invoked diurnal tides and currents. The currents are typically the result of water flow associated with the heating and cooling of water, causing it to circulate. However, in the 20 dives I did we really never ran into a serious current. On two dives there was a very noticeable current, but it was manageable. We were just lucky, I guess.
My Overall Impression
The Red Sea has some of the BEST tropical diving I have seen so far (my experience is limited to Hawaii, the Bahamas, and Fiji). However the dive operation I was with (and I was with one of the supposed best) seemed to be one of over commitment and under deliver. The food was very good, and the Egyptian deck hands worked hard and were great. However, the entire time it seemed as if the captain and dive master were trying to rush through the schedule and get back to Hurghada. When I fly half way around the world and pay for five and a half days of diving, I expect to get a descent quality dive every time. We had 36 hours from when our last dive occurred to when our plane left. The last four dives we did were simply "filler" around our destination point that we could have just as well been done from a day boat. An extra day on the Brothers rather than doing four dives around Hurghada would have made all the difference.
Not having Nitrox on board as stated was also a disappointment. Also, the originally schedule called for the last night to be spent in the Hurghada Marriott. No offense to my bunkees, but that last night I was ready to get out of that cramped cabin. However, we were told that our last night's lodging was to be aboard the boat.
Would I do this again? Yes, but not alone as I did it this time. It would be fun to get a group of northwest divers together and run the more pristine southern route (which is a bit more expensive). Knowing what to expect, I could set expectations of others and possibly do a pre-emptive strike with the dive charter to make certain that what was promised is delivered. In fact, I am starting to put together a Red Sea excursion of northwest divers for early September 2004. I expect the total cost to be about $2000 per person, including airfare. If you are interested in going (there are 20 slots available), you can contact me at keith.clements@watchguard.com.
I am also not certain if I would piggyback business with pleasure again. In addition to being away from my beautiful wife and wonderful daughter for two long weeks, the weight restrictions for flying from the UK to Egypt are rather staunch for business attire and scuba gear. My main case was limited to 55 pound, which was strictly enforced. My carry on was rather large but not weighed by the airline, which is a good thing as it weighted in at about 40 pounds. With camera gear, a laptop computer, batteries, an HID light, and a back plated BC the weight limit goes quickly. I actually could not bring some equipment I wanted to on this trip. Maybe next time I will fill my BC bladder full of helium to help out with the weight.
An interesting note is that not many Americans venture to this part of the world. I would guess the travel is the killer as reaching the Red Sea via London requires a nine hour flight, then a 5 hour flight. We also have the Caribbean and Pacific Oceans in much closer proximity. Our dive guides, who have been working this Red Sea gig for the last three months, stated I was the first American they had seen.
If I dive the Red Sea again, I want to do so in the next few years. My perception is that the Egyptians have a gold mine in their backyard, and they are exploiting it. However, they haven't quite figured out how to protect their cash cow. I thought the operations I have experienced in Hawaii, the Bahamas, and Fiji were much more together and definitely more environmentally conscious. I am also not too sure that the "attitude" is right for some Americans. Egyptians seem to have a disposition of "it will get done whenever it is done". This seems to work OK with Europeans as they seem to be a bit more laid back. However, us Americans tend to be a little more uptight a lot of times and have certain expectations with regards to service, timeliness, follow through, and the environment. Or maybe it is just me.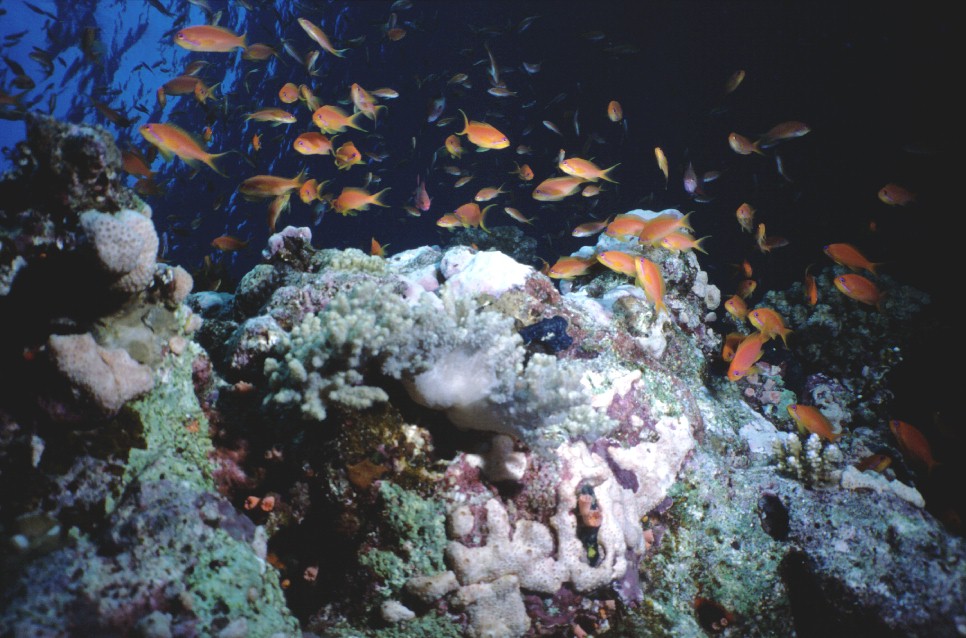 Anthias, anthias everywhere…The Red Sea's offshore reefs are alive and healthy.

There is amazing pressure on this wonderful and unique area. I am not too certain how long its pristine reefs are going to remain that way. I wonder what Jacque Cousteau would say about the Red Sea if he was alive today.

Note: I am currently entertaining the idea of putting together a trip to the Red Sea in early September 2004 to cruise the pristine southern reefs. I expect the cost to be under $2000 per person, including airfare from Seattle. If you are interesting in diving this part of the world from a liveaboard with fellow northwest divers, please contact me at

klclements@comcast.net. Space is limited to 20 divers.